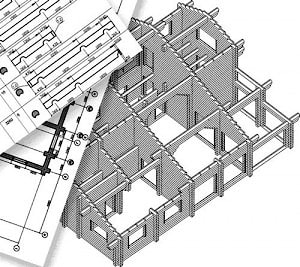 The gifted architects from our company can make a personal design of your future wooden construction. It can be a wooden house from rounded logs, profiled timber or glued laminated timber, wooden saunas, and any other small architectural forms such as garage, shed for the car, barbecue house, summer houses and so on and so forth.
To order a wooden house according to design, which was already done by our architects, is the fastest and easiest way. You can choose and order a project you interested in from our projects on web site. We are ready to change any design meeting your interests and demands. The basic characteristics of future house, its construction plan, the time of installation are defined at design stage.
Wooden house design is fulfilled in two stages.
The first stage
is to sketch design with the help of our architects. Sketches of a wooden house, its form, architectural peculiarities and its facade are made at the first stage. In order you want your personal project, you can bring us the sketches of your own.
The next stage
is to create a working-construction project of a wooden house with our design engineer. Only after all peculiarities of a wooden cottage such as number of rooms, the size of the rooms are approved by the client, our professionals can start the second stage. It is not an easy one – during this stage our architects should count the quantity of materials, taking into consideration the thickness of walls, the height of the ceilings, the roof construction. The specialists check everything in order the project be made in accordance with construction requirements, then the architects make a drawing for wood production, the scheme of the cutting material and the plan of assembly.
The guarantee of your future happy and calm life in your house is a careful and exact design. The same thing is important to every wooden construction, even if it is not very large sauna or comfortable grill house. When the design of a wooden cottage is finally affirmed by the customer, we count all the necessary materials and stages of work (logs, profiled timbers, laminated veneer lumbers, assembly, doors, windows, roofing, and so on). Such calculation allows you to plan exactly your expenses and it also helps not to meet unforeseen expenditures.