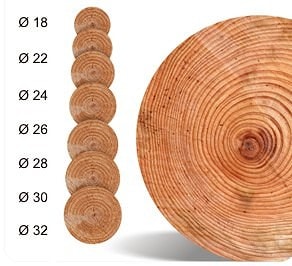 Round logs may have a different diameter, which is suitable for various buildings.
Round logs of large diameter are best used for construction of houses and cottages, and a smaller diameter round logs can be used to light buildings - such as baths, garden furniture, barbecue or a summer house.
Wooden house made of logs has high performance at relatively low cost. Due to a tight connection log gaps between the individual elements are missing. Walls made of logs have a low thermal conductivity, and winter warming of cooled house will take only a few hours. Round logs in the log house has a neat appearance than logs chopped by hand. Round logs practically do not deform with time.
Production of logs from timber harvesting begins. ArchiLine" uses pine and spruce from the Vitebsk region, northern region of the Republic of Belarus. Pine and spruce - an environmentally friendly and a perfect building material for construction of houses made of logs and glued and profiled bar.