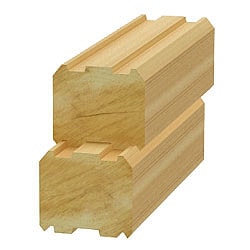 The main advantages of squared profiled timber. Environmentally friendly material. 100% solid wood! Our products are made entirely of pine, spruce, and, unlike the laminated material, contains no additives, like glue. In the production of squared profiled timber, we use only clean wood from forests of Vitebsk region of Belarus. All the timber pass multiple checks and differ consistently high quality.
Economy. Profiled timber is almost two times cheaper than LVL, and in warm keeping twice as well logs or conventional rod. This remarkable material, with competent and qualified to use, saves you when building a house and its heating.
Excellent appearance. Wood with no cracks does not exist, but they are profiled timber order of magnitude smaller in depth and width than the logs, it is connected with the peculiarities of the distribution of internal stress in the rod.
Ease of production. We produce a profiled timber at the Finnish high-precision and high-power equipment since 2004. Our workers are true professionals and are ready to fulfill any order at the appointed time.
Squared profiled timber is a beam with a given profile. This is a modern hi-tech construction material which is usually manufactured from coniferous wood: pine, spruce, at least - larch, cedar. Squared profiled timber surface is carefully polished during production.
Squared profiled timber is produced from solid wood by shaping and / or milling cut. First logs pass special power saw bench, cut on both sides. Then timber passes the same power saw bench and is cut at the specified size, such as 150x150, 200x100, etc. depending on the desired size.
The next step - shaping to give timber the necessary forms: two contrasting sides - the front can be straight or rounded, the other two are mirror profile in the form of grooves and spikes. In the milling cut case squared profiled timber is made directly by milling cut at four sides. This is profiling.